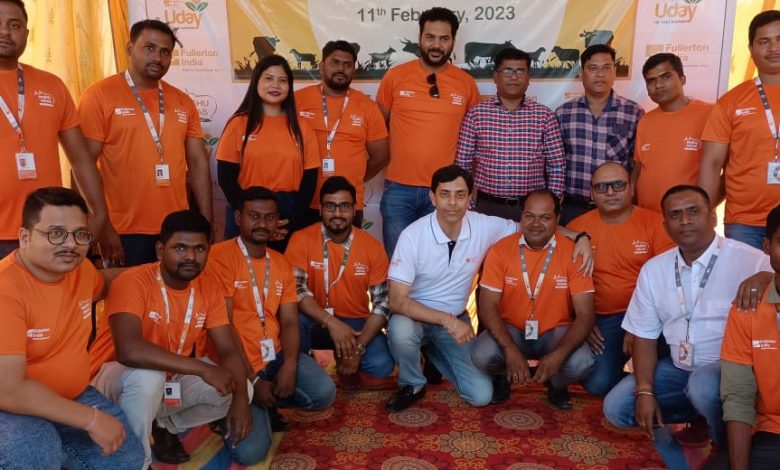 The initiative was part of the country's largest cattle care programme held simultaneously across 374 locations covering 500+ villages in a single day across India benefitting over 71,400+ cattle and 20,400+ cattle owners

Bhubaneswar: One of India's leading NBFC – Fullerton India organized one of the largest on-ground cattle care awareness drives through its annual Pashu Vikas Day (PVD). Cattle healthcare camps were simultaneously held in 24 locations across Odisha which provided free check-ups and medical aid to more than 4,300 cattle. Fullerton India also organized free health check-up camps for cattle owners in 7 locations across the state from 4th to 11th February 2023, which benefitted over 550 lives.
As part of the larger programme, the camps were simultaneously held at over 374 locations, covering more than 500 villages in 15 states, treating 71,400+ cattle across the country.

The camps offered services like free medical check-ups of livestock by veterinary doctors, distribution of free medicine and vaccinations for cattle, and advice on increasing the yield for milch animals. Fullerton India also organized free health check-up camps for cattle owners in over 245 locations from 4th to 11th Feb, 2023 across India that benefitted more than 20,400 people.

Highlighting the company's unique initiative, Mr. Shantanu Mitra, Chief Executive Officer and Managing Director, Fullerton India, said, "At Fullerton India we enable inclusive financial growth across the underserved communities and this philosophy brings us closer to our customers, assists them in fulfilling their financial needs and helps in the overall advancement of society. Our community development programs focus on improvement of livelihood among rural communities – to enhance their quality of life and boost their income streams. As cattle is essential for those living in the hinterland, we conduct Pashu Vikas Day annually to focus on providing cattle healthcare facilities to not just our customers, but the farmer communities at large, enhancing social value. This effort has seen cattle-owners improve the productivity of their cattle and increase their household income, driving positive social impact."

The company launched its first Pashu Vikas Day in 2014 as a single day cattle-care camp across various pan–India locations, wherein company employees connected with the rural community to help them take care of their cattle.
Over the years, Fullerton India has helped provide cattle owners with the necessary cattle healthcare facilities and guidance so that they can improve the productivity of their cattle and enhance their household income. The Pashu Vikas Day till date has treated more than 2,71,000 cattle, and more than 80,000 cattle owners have benefitted.

Commenting on Pashu Vikas Day, Mr. Swaminathan Subramanian, Chief People Officer at
Fullerton India, stated, "Many farmers in India's rural heartlands are dependent on cattle rearing for their income and through our annual Pashu Vikas Day programme, we aim to empower this community by providing them a networking platform along with access to quality cattle healthcare. This gave an opportunity for our employees to volunteer for a cause and give back to the society."

After its launch in 2014, Pashu Vikas Day was held in 2015, 2018, 2019 and 2023. Fullerton India was featured in the 2015 Limca Book of Records as the Largest Single Day Cattle Care Camp organised across India, in 2018 as the World's Largest Single Day Cattle Care Camp by Best of India Records, and in 2019 as the Largest Camp of Cattle Care Camp by World Books of Records.