Business
Interstate Cricket Match for the Visually Impaired Organised in Sukinda Chromite Mine of Tata Steel Mining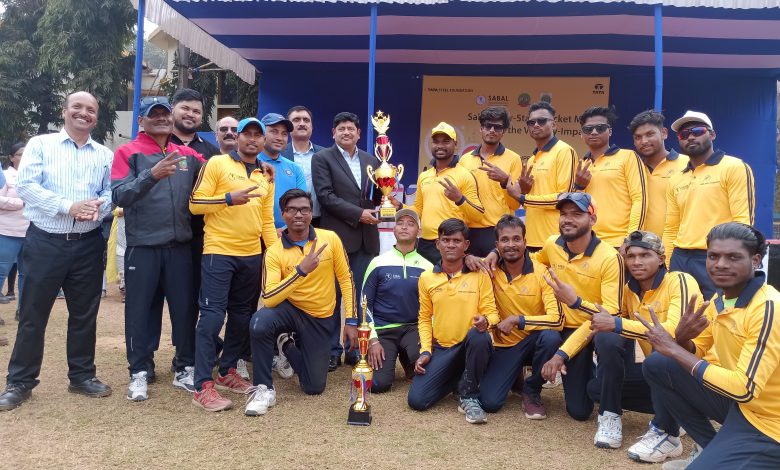 Sukinda, January 18, 2023: Tata Steel Mining Limited (TSML) in collaboration with Tata Steel Foundation (TSF) organised SABAL Interstate Cricket Cup for the Visually Impaired between Odisha-11 and Jharkhand-11 here on Wednesday.
The 20-Over cricket match was played at the Stewart School ground inside the TSML's Sukinda Chromite Mine located in Sukinda Block of Jajpur district, in Odisha.
Locking their horns with impressive skills and unmatching talents, the visually challenged players of the Cricket Association for the Visually Impaired Odisha and the Cricket Association for the Blind in Jharkhand showcased some brilliant sporting actions that received huge rounds of applause from a jampacked audience.
Attending the event, Sanyashi Behera, Under Secretary, Department of Social Security and Empowerment of Persons with Disabilities, Government of Odisha, expressed his happiness and praised the initiative taken by TSML and TSF.
Chairman, Tata Steel Mining Limited, D.B. Sundara Ramam presented the trophy to the winning team Odisha-11 and said "We must join hands to empower the differently abled persons with right skills and provide them with right opportunities to showcase their talents. I believe, this initiative taken up by Tata Steel Foundation and Tata Steel Mining will surely encourage other specially abled to participate in mainstream sports," he added.
Speaking on the occasion, Managing Director, Tata Steel Mining Limited, Pankaj Satija said, "As a responsible mining company, Tata Steel Mining continues spotting sporting talents, harness their skills and help them realise their dreams. Persons with disabilities are integral part of the society and events like this are our commitment towards the inclusivity."
Team Jharkhand won the toss and decided to bowl first. Batting in the first innings, Team Odisha scored an impressive 309 runs giving the target of 310 runs to Team Jharkhand. Taking to bat in the second innings, Team Jharkhand finished with 152 runs and Team Odisha won by 157 runs.
Nakul Badnayak of Team Odisha who scored a thumping 130 runs out of 60 balls, was declared Man of the Match.
With an aim to create awareness and sensitise the community at large for the specially abled persons, TSML and TSF have always encouraged the youth to participate in all kinds of sports and has undertaken many such noble initiatives.