News
A Grand Welcome to FIH Men's World Cup 2023 Hockey Trophy to Dhenkanal at the Tata Steel Meramandali plant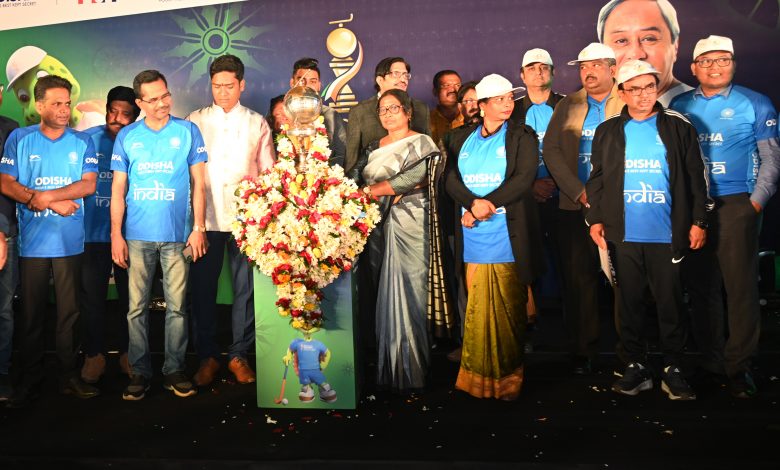 Meramandali, January 05, 2023:  The trophy of the FIH Men's World Cup Hockey 2023 received a rousing welcome at Tata Steel Meramandali (TSM) gate, as it entered Dhenkanal district today.
The MLA of Hindol, Smt Simarani Nayak, ADM, Dhenkanal, Shri Udaya Mahapatra, Sub-Collector, Dhenkanal, Shri Sibananda Swain, District Sports Officer, Shri Pradipta Mohanty and Shri Amit Kumar Singh, Chief, Iron Making, TSM, received the trophy in a function held at the gate of the Tata Steel Meramandali plant, located at Kantabania in Odapda Block.
On the arrival of the trophy from Angul district it was cheered on to the stage by an enthusiastic gathering. The dignitaries present on the occasion welcomed it with garlands.
Addressing the gathering, Smt Simarani Nayak said, " It's a privilege for the people of the district, particularly the youth to welcome the trophy and be a part of this international event. Our effort is to encourage the youth to take interest in hockey as a sport and in particular the Hockey World Cup that is being organised in Odisha this year."
Thanking the district administration in choosing Tata Steel Meramandali as the official venue to welcome the trophy and being a part of this historic occasion, Shri Amit Kumar Singh said, "As the official partner of the FIH Odisha Hockey Men's World Cup 2023, Tata Steel is proud to welcome the trophy to the Dhenkanal district. As the trophy is taken around, we hope it will inspire youngsters and aspiring sportspersons to develop their interest in this magnificent sport."
Other Senior executives of the Company including Shri Shailesh Verma, Managing Director, Angul Energy Limited, Shri Ved Prakash Thakur, Chief, Shared Services, Shri Mohit Das, Chief, Corporate Services; Shri Shaktishree Das, Chief, Business Finance & Accounts were also present. Besides, volleyball players from local villages who are being trained by Tata Steel Foundation and members of the District Kick-Boxing Association, also fervently joined in the welcome ceremony.
On December 13, 2022, Tata Steel had signed a Memorandum of Understanding (MoU) with Hockey India, to become an Official Partner of the FIH Odisha Hockey Men's World Cup 2023.The tournament will take place in Bhubaneswar and Rourkela from January 13 to 29, 2023 and will feature 16 competing nations.
Tata Steel has had a long history of supporting and promoting sports in India, including hockey with the establishment of top-tier residential training facilities and the provision of international coaches, nutritionists and mental and physical trainers.
The Odisha Naval Tata Hockey High-Performance Centre (HPC), an initiative of the Sports Department, Government of Odisha, in partnership with Tata Steel & Tata Trusts, runs 14 grassroot centres spread across 6 districts of the State, including one in Dhenkanal. Around 2,200 young trainees are groomed in these centres by 30 experienced coaches.
The selection of 6 cadets to the Indian National Junior women camp in the last 12 months is a testimony to the efforts of the hockey HPC and its grassroot programmes in Odisha.