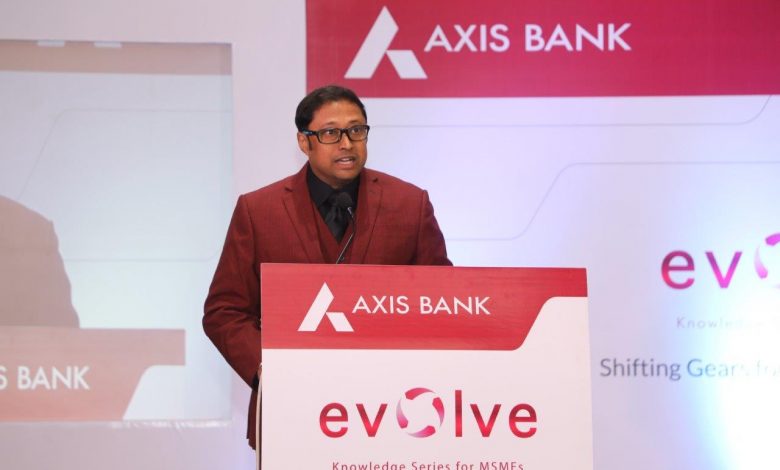 Bhubaneswar: Axis Bank, India's third largest private sector bank, hosted the 7th edition of 'Evolve', an annual knowledge sharing seminar for Micro, Small and Medium Enterprises (MSMEs) in Bhubaneswar. The 7th edition of Evolve focused on the broader theme – 'Indian SMEs: Shifting Gears for Next Level Growth' with sub themes 'Digitalization to Building Indian SMEs' and 'Export Opportunities for SMEs in the New World Order'. The seminar was addressed by Sangram Singh, President Commercial Banking Coverage Group (CBG), Axis Bank; Mr. Priyadarshi Nanu Pany, Founder & CEO, CSM Technologies and Mr. Arijit Bhattacharyya, Founder, Virtual Infocom.

The 7th edition of Evolve will delve into how technology and digitalization can help achieve exponential growth from exports, which is a major area of focus for increasing profitability and market presence for MSMEs. Through Evolve, Axis Bank aims to provide a platform for MSMEs to interact and learn from industry thought leaders who have transformed their businesses over the years.
During the launch, Mr. Sangram Singh, President, Commercial Banking Coverage Group, Axis Bank said, "We strongly believe that MSMEs are the engines of growth for our nation and as partners in progress, we at Axis Bank endeavour to offer both financial and non-financial services to help MSMEs expand their businesses holistically. With an aim to strengthen our commitment and role as a true partner in their journey, we have always extended our support to MSMEs beyond the traditional realm of banking.''
The MSME sector has immense potential to bolster its export share. Despite the industry challenges, positive trends such as – government support, digital tools, improved access to finance and technology, trade facilitation and global markets have empowered MSMEs to leverage tailwinds and propel growth to the next level.
Axis Bank along with its knowledge sharing partner Dun & Bradstreet, will host Evolve across 20 cities such as Mumbai, Chennai, Indore, Raipur, Lucknow, Kolkata, Ahmedabad etc. Each session of the knowledge series will encapsulate new-age strategies, case studies, operational expertise, and understanding of the regulatory framework, knowledge, and skills to step-up the growth process.