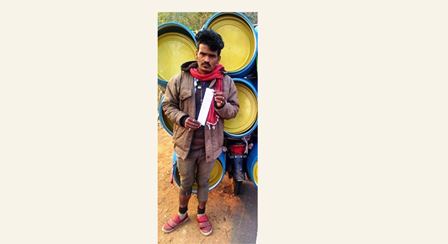 ayagada: The Department of Transport is strict with the new motor vehicle law. Strict enforcement are under way to crack down  violators. The Transport  Department Motor Vehicle Inspector  fined Rs 1,13,500 for driving a motorcycle from outside the state without registration in Rayagada.
Traffic and police inspections across the district have been tightened since the government tightened traffic rules from the New Year.
Traffic violator Prakash did not wear a helmet and did not have a registration number for the bike he was riding. After buying the bike from Madhya Pradesh, Prakash brought it to Rayagada without registration and put it in business here. A fine of Rs 1,13,500 has been imposed for driving without registration, without a driver's license, without insurance, without wearing a helmet. This is the first time in Rayagada that motorists have been fined so much after the implementation of the new motor vehicle law. Transport Department Traffic Inspector Yudhisthira Lenka, along with Assistant MVI R.K. K. Behera, Traffic ASI c. K. The vessel was involved in a major vehicle inspection. District Transport Officer Dillip Kumar Dalai urged the driver to wear a helmet and keep the necessary documents while driving to avoid fines in compliance with the new law.