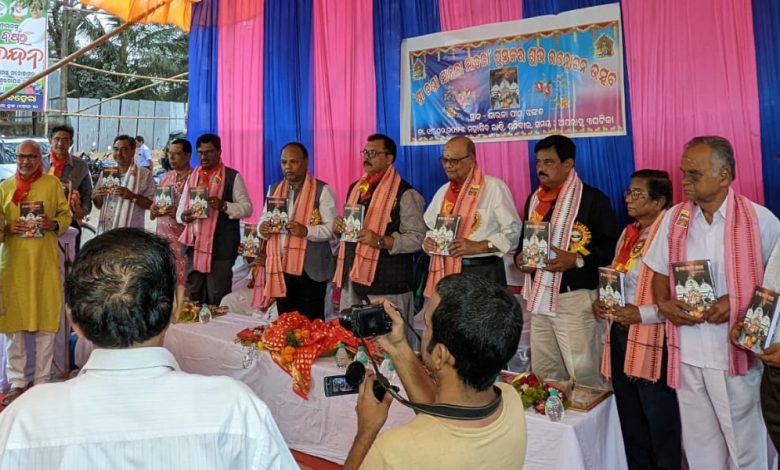 Padma Shri Pandit Dr Antarjyami Mishra launches the book written by Ranjan Kumar Panda, the Chief priest of the temple

Jhankard Sarala: Renowned Odia language researcher Padma Shri Pandit Dr Antarjyami Mishra released "Shri Chandi Sarala Madala," an Odia book that provides a meticulous account of the history and culture of the Sarala Temple located in Jagtsinghpur district of Odisha and life of Adikabi Sarala Das, the 15th-century poet and the author of Odia Mahabharat. Retired judge Odisha High Court Pramatha Pattnayak, noted Odia writer Gaurahari Das, former Vice Chancellor of Fakir Mohan University Sukadeba Nanda were present on the occasion.
Written by Ranjan Kumar Panda, the chief priest of Sarala Temple and a noted advocate from Jagatsinghpur the book, comprising of 18 chapters and 343 pages, is the first such comprehensive documentation of the Temple and Adikabi. It covers a wide range of topics, including the shakti cult of Odisha, the iconography of the idol of Goddess Sarala, its linkage to Buddhism, the life and lineage of poet Sarala Das, and his association with the temple.

Speaking at the launch event, Dr Antarjyami Mishra remarked that the book is an important documentation of the history and culture of the Sarala Temple and poet Sarala Das. He also expressed the hope that the book would enlighten readers about many unknown facts regarding the temple and help settle many unsubstantiated theories associated with the temple and poet.

Stakadi Hota, the noted Odia writer and editor of Odia daily Samay, who wrote the preface of the book, highlighted that the author's emotional connect with the subject as the chief priest of the temple is reflected in the carefully presented information about the temple's eventful history and culture.
The author, Ranjan Kumar Panda, shared that the idea for the book originated from the absence of any authentic and research-based reference material on the temple and Adikabi Sarala Das required for a website of the temple. The book tries to document the same in a scientific way by referring to many first-hand primary sources and more than 200 books on the subject. He also expressed his confidence that the book would inspire many others to take up further research on the subject.

The launch of "Shri Chandi Sarala Madala" is a significant milestone in the documentation of the history and culture of Shakti cult, Sarala Temple and Odia Mahabharat writer Sarala Das. The book will serve as a valuable resource for scholars, researchers, and enthusiasts of the shakti cult of Odisha and Indian literature. The detailed documentation, sequencing of events, and the use of primary sources make this book a unique and compelling read for anyone interested in the temple's history and its association with the legendary poet Sarala Das.

Several other notable personalities graced the event, including Jhankard Sahitya Sansad Secretary Golak Bihari Pallai, Bhakta Ranjan Mohanty, Engineer-in-Chief, Water Resource Department and Sourya Ranjan Parija, Executive officer of the Sarala Temple among others.