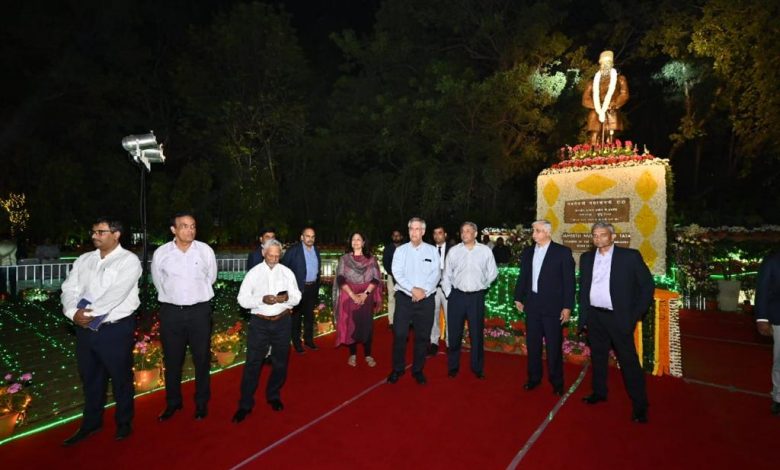 Tata Steel Vice Chairman Noel N Tata inaugurated slew of new projects

Jamshedpur: Tata Steel paid homage to its Founder Jamsetji Nusserwanji Tata on the eve of his 184th Birth Anniversary today at Jubilee Park. Various projects were also inaugurated at Jamshedpur there by reassuring group's commitment for the city and locations where it operates.

Theme of this year's celebrations is "Geennovation-Make Tomorrow Green".

The illumination at the Founder's Statue in Jubilee Park was inaugurated by Noel N Tata, Vice Chairman, Tata Steel in the presence of T V Narendran, CEO & Managing Director, Tata Steel and senior officials of the company.

Tata Steel Vice Chairman also inaugurated 'Agni' structure inside Jubilee Park. The structure has been articulated as a flame rising from the mother earth and reaching for the skies. Fire (Agni) symbolizes many things in the Indian culture: purity, spirituality, knowledge, and enlightenment, all leading to the path of truth. The structure is divided into two parts, the sub ground structure (foundation) and the superstructure (the sculpture). The structure has been made with Tata Structura YST 355 steel tubes.

To celebrate the versatility of steel and its applications, Tata Steel conceptualised a global design competition 'Notions of India' to bring together architects from around the world to showcase their creativity by using steel structural hollow sections. The competition also reinforces the mission of Tata Structura to enable contemporary architectural marvels and innovative solutions of tomorrow. 'Agni' was one of the winning entries from this competition's second edition organised in 2021, which saw over 5,200 registration from participants across 13 countries.

Noel N Tata also inaugurated COVID Warrior Park along the Straight Mile Road in Jamshedpur. The structure dedicates the supreme efforts of the frontline warriors who performed service during the pandemic while even sacrificing their lives. Tata Steel decided to use Fibre reinforced Polymer (FRP), which is its New Material Business, for creation of mannequins of doctor, nurse, paramedical staff, security personnel and cleaning staff which has been displayed. The park has been designed around the five central art forms portraying a doctor, nurse (healthcare worker), paramedical staff, sanitation worker, and security personnel as COVID Warriors. The placement of these art forms is in the shape of a pentagon, with a sculpture of three hands towering from the centre above the five COVID warriors. The central sculpture consisting of three hands symbolizes their selfless services to safeguard the society against the COVID pandemic. These Covid Warrior artforms have been designed as 3m high mannequins in FRP, while the central sculpture is 4.5m tall. The park spread in 2500 sq.mt. area has been designed with five directional pavements converging at the central sculpture, highlighting the significant contributions of COVID Warriors.

Another important addition to steel city this year is Jamshedpur Nature Trail, which was inaugurated today by Noel N Tata. A vast expanse of waste land measuring about 21-acres has been converted into Jamshedpur Nature Trail for nature lovers in Jamshedpur. As part of its sustainability initiatives, Tata Steel envisaged an urban Waste land to Urban Forest concept and has successfully developed the same within a period of two years. The project was formulated with the broad objectives of increasing the green cover in Jamshedpur, build eco habitats in Jamshedpur, revive natural waterbodies and wetland areas and Improve aesthetics in the residential areas by creating public open recreational spaces.

The project introduces mini forest concept with dense tree plantation of native species and bamboo plantation with more than 21000 tree saplings and green cover comprising of myriad ecosystems. Jamshedpur Nature Trail design has been developed as three layers, namely, Shrivana, Mahavana, Tapovana having derived their significance from the forest classification in ancient times.

This year elaborate lighting has been done in over 40 roundabouts and other important places across the city with lights. Heritage Buildings and parks across the city have also been illuminated. They include Tata Steel UISL office, Tata Workers' Union, Fire Temple, Railway Station, Tata Main Hospital, Centre for Excellence, Beldih Church, Baptist Church, School of Hope, Tata Pigment Gate, Golmuri Clock Tower among others.

Every year, Tata Steel along with other Tata group companies celebrates the birth anniversary of the Founder and his vision of an industrial future with community welfare at its core.