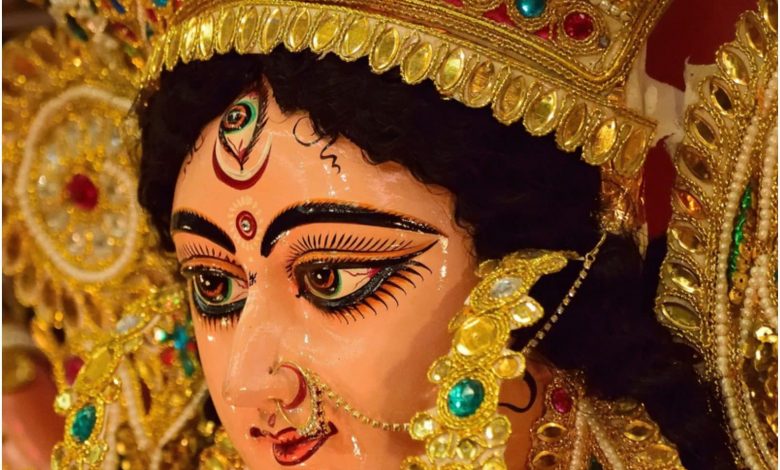 Dozens of people all over the state with great reverence, devotion and determination
observed Durgapuja and Dussehra .
Entire Suburbanpur district on the occasion of Holy Durgapuja and Dussehra It's getting festive. More than 50 puja mandapas in the district  As the special Durgapuja and Dussehra of Goddess Durga begins Chandipatha and Homa in Yajna Mandapam of Shaktapitha Devi Sureswari organized. Ravana fire festival in 10 places of the district
organized. Similarly people are traditional at home  has worshiped weapons.
Similarly, in Devagarh district, Anandullas are being cultivated Vijaya Dasami. Today at home with the nabanan attached to the mother The people of Devagarh have celebrated New Year's Eve at home. According to tradition
In Devagarh district Nuukhai is celebrated on Vijaya dasami Tithi Done. That's why the family lives far away from the beloved Durga Puja is celebrated by the family in their homes at Dussehra.
Nuapada District  ,   Goddess Ma Rutambari And two chhatras of Goddess Maa Samaleswari, ruler of the Chauhan clan Face to face. This year in front of Khadial Rajbati Together, the two goddesses have gone around the city together. First Younger sister Samleswari is out in the city for a while In the meantime, the elder sister, Ma, went around the city of Ruttambari. Four people from Koraput and Sambalpur districts are on this trip Cultural groups and local cultural groups participated in the procession has happened
Durga at different places on the occasion of Dashar in Nayagarh  district  And the idol of Shiva Parvati is installed. District this year Sadar Mahkuma including Bhapur, Khadpada, Odgaon, Ranpur,  Durga Murti in 90 places of Daspalla,   and Nuagaon blocks
Similarly in Bhadrak district Arnpal, Shushua, Rajmukundpur, From Rajwalibindha, Bishnupurbindha, BhaktiBrahmpur, Major Panchayats and Villages On the occasion of Dushar, the village goddesses are decorated with ornaments Dozens of buffalo processions after worshiping at Thakurani Durgapuja and Dussehra
held. Rabanpodi festival to be held in different parts of the district Co-ruling Goddess Maa Bhadrakali Pitha, Maa Dhamrai, Patnamangala, Dapanayakani, Sarnamukhi,   and Mother Jayadurga, who is in the lineage of the famous Baba Akhandalmani of Ardi  Special worship is done.
On the occasion of Sharadiya Durga Puja, the city of Boudh is bustling is up Suuch Toran with colorful from various puja committees Decorated with lights. 35 small and large in the city Ma's puja is held after the pujamand.
For three Bhasani Committees for Bhasani Festival in Bhubaneswar Special route lanes have been arranged. Avoid traffic jams Special importance has been given by the police. Therefore 17 Platoon police force will be formed. Three people in charge of Bhasani There will be an additional DCP. As in floating The DJ should not play at a volume higher than 65 decibels Orders are given. On the contrary in Bhubaneswar in 4 places Permission has been granted for rabbit burning. capital Bermuda and Ma To the puja committee in Jharpada, Koradakanta, and Pahal
Permission has been given by the fire brigade. For Rabanpodi Five platoons of police force will be formed in Bhubaneswar
.
Similarly for Bhasani in Devigara of Cuttack Woodland River Special arrangements have been made. Hence the temporary pools Excavated.