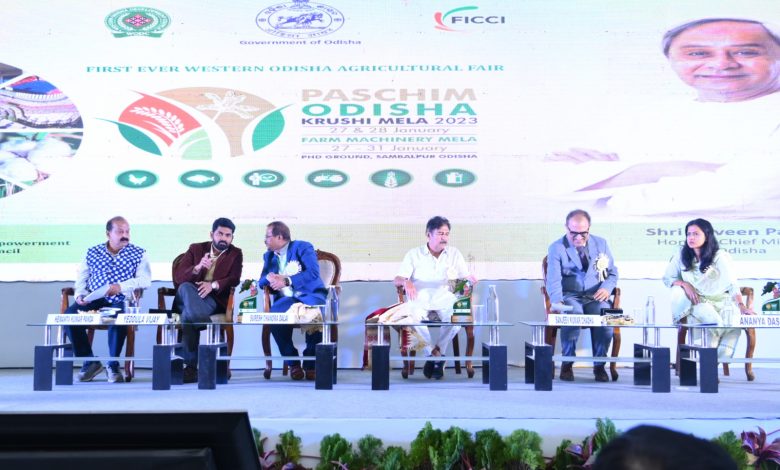 Sambalpur, 28 January 2023: Special Secretary, Agriculture and Farmers' Empowerment, Govt of Odisha, Sanjeev Kumar Chadha said that to further increase farmers' incomes, there is a need to focus more on allied sectors like fisheries, poultry, dairy, and livestock. He added that there is a need to diversify crop patterns from paddy to several cash crops.
Addressing the valedictory session of the first Paschima Odisha Krushi Mela, jointly organized by Western Odisha Development Council (WODC) and Department of Agriculture and Farmer Empowerment, Government of Odisha in association with FICCI, Chadha said that the department had recently formed a committee under his chairmanship. The committee has submitted its report to the state government wherein the major recommendation is focus on crop diversification. The committee has also recommended focusing on an allied sector. He further added that the report also calls for the creation of a large-scale cooperative society in the dairy sector for further progress.
Speaking at the session, Pravat Aditya Mishra, Chairman, APICOL, Odisha said that the Mela, a first of its kind being held in western Odisha, has provided an opportunity to successful farmers to come to the forefront. He also spoke about disbursing subsidies to farmers by the government.
Speaking on the occasion, Dr Suresh Chandra Dalai, IAS, RDC, Sambalpur, said, that such events present farmers an opportunity to connect with technology. He added that farmers, through the 'Go Sugam' portal, can register and purchase 15 types of agri equipment like tractors, power tiller, harvesters, rice mills, among others. He further added that 415 farmers have registered on the portal, which amounts to INR 6.52 crores. The Mela, he said, will link western Odisha farmers with mechanized farming.