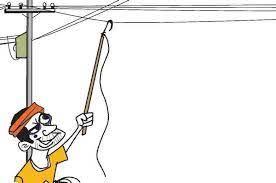 Electricity connection by illegal hooking has led to death of three buffalos in Bijayanagar village under Mahakalapada block. A resident of the village, Sanjay Dash had taken an electricity connection by illegal hooking and temporary bamboo poles. Yesterday when Tukuna Das and his brother from the same village had taken their herd of buffalos for grazing, three buffalos came in touch with the joint of the hooking wire and got electrocuted. Tukuna's brother was saved by a whisker.
Earlier in the month of May, a 40-year old man had died after coming in contact with a high-voltage electric fence at Bheda Ramachandrapur village near Banki. In that case also the electric connection was obtained through illegal hooking.
Such incidents keep surfacing time and again as people turn a deaf ear to advices of electricity distribution companies. TP Central Odisha Distribution Limited (TPCODL), a joint venture between Tata Power and the Government of Odisha, has been conducting mass awareness campaigns to make the consumers understand the critical risk they are undertaking by illegal hooking activities.
"It is not only unethical, but also very unsafe and poses critical threat to users and the public in general. People must stay away from power theft through such illegal hooking activities and obtain electricity service connection through proper application. This being a concern for all, people should report such actions by sending us a message on Whatsapp at 9437158670, or by e-mail to [email protected] or using TPCODL Mitra app and save precious lives of human beings and animals," a TPCODL spokesperson said.