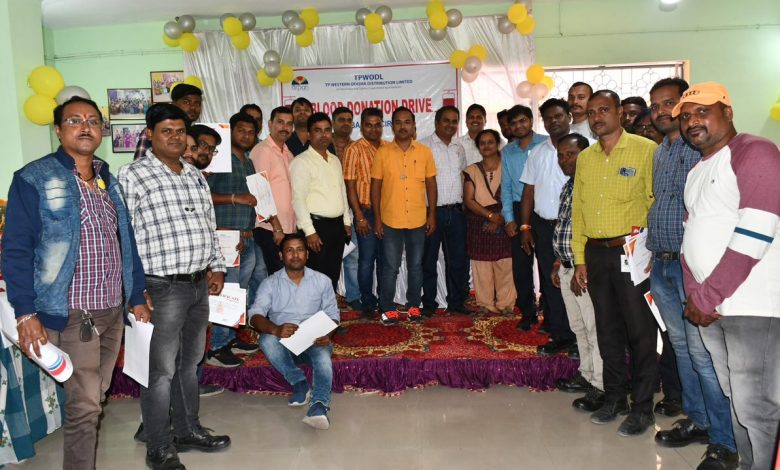 Bhubaneswar: As a part of Corporate Social Responsibility (CSR) initiative, TPWODL, the Electricity Distribution Utility Company in western Odisha has conducted a Blood Donation Camp by its Sambalpur Circle at the VSSUT, Club House at Burla.

The Blood Donation Camp was inaugurated by Er. Gajanan Kale, CEO, TPWODL in presence of Dr. Lalit Meher, Director, VIMSAR, Dr. Bansidhar Majhi, VC, VSSUT, Dr. Chitta Prasad, HOD, Blood Bank, VIMSAR, Bural.

Speaking on the occasion The CEO, TPWODL, stated that, the company has planned to spend Rs. 1.5Cr in CSR in this financial year. Since its inception the company has been emphasizing on the social development of the area. The company has already deployed a Mobile Medical Unit in Kalahandi District from Jan-2022, the mobile medical unit has covered 40 villages in two blocks and already provided medical assistance to more than 12000 patients, in Junagarh and Golemunda Blocks.

He has also mentioned that, the company is planning to roll out one more Mobile Medical Unit in Deogarh District from Jan-23. Apart from this under CSR initiatives, the company has adopted two Blocks in Bargarh distrct where technical and material support is extended to more than 400 farmers in Agriculture & farming. The company also supports them in Ragi Cultivation, Mushroom Cultivation, Fishery & Poultry. This is as per the Govt. Of Odisha Millit Mission and Lively hood mission,

On this occasion Er. Kale said, the company will set up a Vocational Training centre for unemployed youths in Bolangir district where they will impart House Hold Electrician training as per the.

The company is also planning to distribute 2000 blankets to poorest of poor people in this winter season. The company will undertake Blood Donation Camps at all Circles in coming days.

Speaking on the occasion Dr. Meher, The Director VIMSAR, thanked the TPWODL, Sambalpur Circle team for the initiative, and stressed upon the contribution of the corporate houses in social sector developments. He also expressed that the VIMSAR will always join in all such efforts undertaken by corporate houses in the region.

Dr. Majhi, VC, VSSUT also said that the activity of TPWODL will motivate the students of the Technical institute also to join hands with TPWODL. As it is both the organisations have actively involved in technology collaboration for mutual beneft.

Dr. Chitta Prasad, while addressing the gathering explained the benefits one can naturally gain by donating blood on a periodical interval. It would help his body to maintain healthy parameters, therefore all should come forward to donate blood on a periodical interval.

In this camp the employees of TPWODL donated 130 packets of blood to the blood bank.