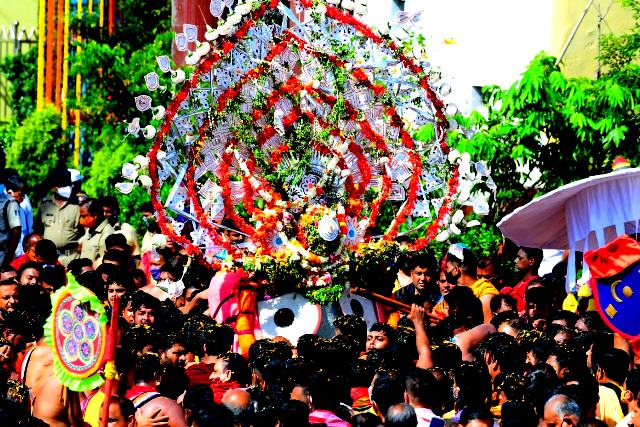 Puri: The holy and world famous  Ratha Ytara of Laord Jagannath Stared in  Shrikshetra Puri. All the rites on the chariot have been completed. After returning to Gajapati Maharaj Srinagar after completing the Chera pahanhra on the three chariots, .The three chariots are being taken towards Sharadhabali  At 12 noon, Balabhadra's Taladwaja chariot first rolled towards Sharadhabali. Without devotees, Savayats drag the chariot-riding Sree Jews  . In a colorful spiritual environment, Kalia Thakur is out on Nandighosa Ratha , with Balabhadra in front of the  Yatra festival, Goddess Subhadra in the middle  onDarpadalan  Ratha(chariots), and finally  Lord Jagannath On Nadighosh Ratha.
A procession has been organized at Shrikshetra with covid-19 restrictions . The procession was held from 4:30 a.m. today. The Pahndi  started at 9 am and ended before 10 am. Jagatguru Shankaracharya then visited the chariots. Similarly .
This year, Puri has been restricted from public  entry . Even the people of Puri cannot see the  Rath yatra on the roof of their house. Section 144 has been in force since yesterday. According to the Corona guidelines, people are being forced to comply with the curfew. People are watching the Lord's journey on television.