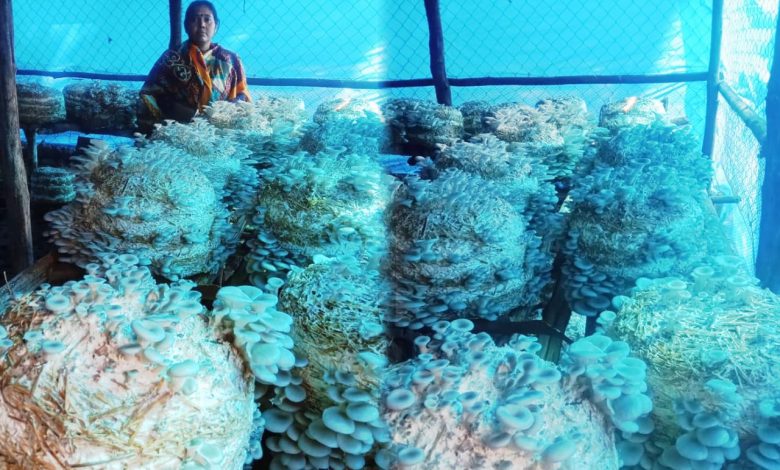 Joda: With a record harvest of mushroom this season, Sashibala Munda of Thakurani village under Guruda gram panchayat of Joda Block in Keonjhar district, is a happy woman now. The reason being, she has been able to support her family through this additional income.
"This year, I have grown mushroom in 250 beds. Since there is an all time demand of home-grown mushroom in our area, customers get their requirement from my home," says an elated Munda.
Not only Sashibala, women in and the surrounding villages of Joda Municipality are getting benefit from Tata Steel Foundation's (TSF) mushroom project which is empowering them in multiple ways. The project, taken up by TSF, is not only helping the women to multiply their income sources, but also creating a special identity for them as emerging entrepreneurs in the male-dominated society.
Nearly 70 women of Bichhakundi, Khondbond, Guruda, Rangamatia, Nayagarh, Jamunaposhi and Joda Basti areas under Jalhari, Balda, Nayagarh and Palsa gram panchayats under Joda Block have been benefitted from the project so far.
Basanti Chakrobarty of Bichhakundi village under Joda Municipality who has grown mushroom in 75 beds this year, echoes Sashibala.
"I'm selling the produces at Rs. 140/- per kilogram and this has helped me to bear half of my family's expenses. Coming year, I will grow more. I thank TSF for the technical guidance and infrastructure support they have extended to me as well as other women in our area," said Basanti.
The mushroom production is showing an increasing trend in the region with new growers adding up using high-tech structures supported by TSF.
From time to time, the growers are also taught value addition to their produce. The production of dry mushrooms, packaging, pickle making, all these are being taught to them for increase in earnings of the growers.
In the days to come, TSF plans to increase beneficiary base in these villages.