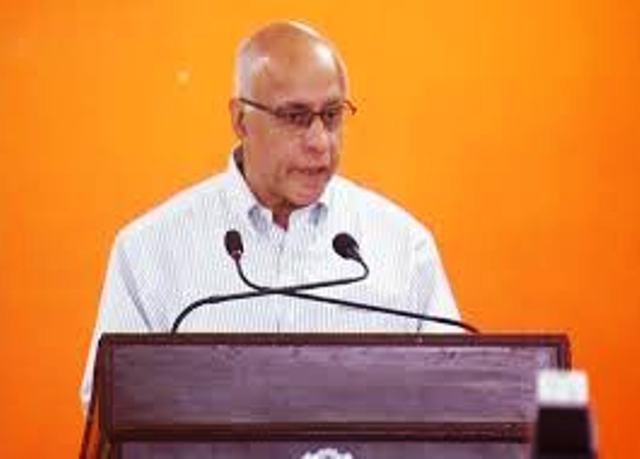 BHUBANESWAR – Subroto Bagchi, Chief Spokesperson of Govt. of Odisha on COVID-19 briefed the Press about steps taken by Government of Odisha for prevention of COVID-19.
 Hon'ble Chief Minister Sri Naveen Patnaik, today, on the occasion of International Nurses Day expressed his gratitude and tribute to millions of nurses across the world. The Nurses are playing the frontliners' role in fighting COVID-19 and their determination and sacrifice have enabled us to save more lives and to improve cases of recovery, he added.
 Hon'ble Chief Minister Naveen Patnaik, taking part in the video conference with Hon'ble Prime Minister Narendra Modi, requested Union Government to modify existing schemes to incentivise and actively involve Panchayatiraj Institutions in COVID-19 management. As it is a long fight, it is important that we involve Panchayats for a system based response, he said.
 Hon'ble Chief Minister Naveen Patnaik further said that Union Government may come up with National Standard Operating Procedure (SOP) for rebooting economic activities across State boundaries. Such SOP will guide a unified response for rebooting our economy.
 As regards to Lock Down and other regulations, Hon'ble Chief Minister said that there should be broad principles at National level and allow decentralised implementation by local administration. A smaller, scientific unit may replace districts as unit for zoning and the local administration be allowed to decide the area.
 Hon'ble Chief Minister Naveen Patnaik through a Video Conference today reviewed smooth management of quarantine centres, enhancement of number of beds in COVID Care Centres and measures to be taken for rebooting economy. Chief Advisor to the Office of Hon'ble Chief Minister, Chief Secretary, all Additional Chief Secretaries, DG, Police, Principal Secretaries and Secretaries participated in the meeting.
 Keeping in view the return of more number of migrant workers from outside, Hon'ble Chief Minister stressed upon humanity and professional efficiency to combat the difficult situation of COVID-19.
 Hon'ble Chief Minister Naveen Patnaik further added that-
1. Proper training, as given in Ganjam district, may be imparted on COVID-19 management to the inmates of Quarantine Centres in other districts so that they can provide service to the society as COVID warriors. Also Hon'ble Chief Minister ordered to design a short certificate course in this regard.
2. The capacity of beds of COVID Care Centres in the districts of Ganjam, Balasore, Kendrapada, Bhadrak, Jajpur and Bolangir should be increased within a week.
3. Special attention should be given to pregnant and lactating mothers, children, PwDs and elderly people.
4. In order to improve livelihood and rebooting economy, MGNREGA and Mission Shakti activities should be intensified. Careful planning under various departments to provide more work to people should be prepared. Also provision should be made for additional fund to strengthen rural economy.
5. Adequate provision should be made for supply of PPEs and medical equipments to the persons engaged in Health Services.
6. In order to strengthen agricultural economy, State Government will bring out 3 ordinances shortly.
 Harvest of Rabi crops has started. Supply of fertilizers, seeds and other required agricultural equipments has begun. A helpline is functional in the department for the farmers. Activities like fish farming, poultry farming, horticulture and dairy farming are running smoothly.
 It was decided in the meeting to gear up labour intensive programmes in different sectors. Activities in this direction have been started in Departments of Water Resources, Rural Development, Works and Forest & Environment. It has been planned to engage one lakh people daily in plantation programme in coming one month.
 During the course of Video Conference Director, Mission Shakti informed about the remarkable participation of SHGs in COVID-19 management. More than 50 lakh masks have been prepared by the members of Mission Shakti and more than 46 lakh mask have been distributed. These members have provided 1.6 crore meals under free kitchen(Cooked Food) Scheme. Besides, they have taken part in supply of food to hospitals, dry ration to households, fish farming and agricultural activities. SHGs have been provided 300 Crore credit assistance with zero interest.
 Ganjam District Administration is imparting community health worker training to the quarantinee migrant workers so that they can play a key role in fighting COVID-19. They are also engaged in immunity-building exercises on a routine basis.
 As per order of the Hon'ble Chief Minister, cash assistance @Rs. 1500/- each is being provided to 17 lakh registered construction workers during the State in this crucial period. An amount of Rs. 255 Crore has been disbursed so far. The cash assistance is being disbursed at the doorstep of the beneficiary.
 Odia brothers and sisters are returning to Odisha every day since 3rd May. 8761 Odia people have returned to Odisha today. So far 76,234 Odias have returned to Odisha. Returnees are coming by train/bus and other vehicles.
 14,647 Temporary Medical Centres/Camps have been readied in 6798 Gram Panchayats of the State. In all these Centres, total no. of 5,82,941 beds have been arranged to provide COVID-19 health services in rural areas.
 Today, 3,17,105 destitute and helpless persons have been provided with food in 4823 Gram Panchayats. Similarly, in 114 ULBs 35,784 persons have been provided with food.
 From 11th May morning to 12th May morning, 18 no of cases have been registered by the Police in the state for violation of different regulations and guidelines related to COVID-19 of which 15 no. of cases for violation of lock down, 2 case for violation of Home Quarantine and 1 case for other issues related to COVID-19. 35 persons have been arrested by police for different violations.
Health Update
 Up to midnight of 11th May, 68,057 samples have been tested.
 Number of Positive Cases stands 437.
 85 persons have already recovered/ discharged.
 No. of Death case 3.
 No of active cases are 349.
 494 persons are in hospital isolation.