Odisha
In Odisha, 16.07 lakh registered construction workers are being provided special financial assistance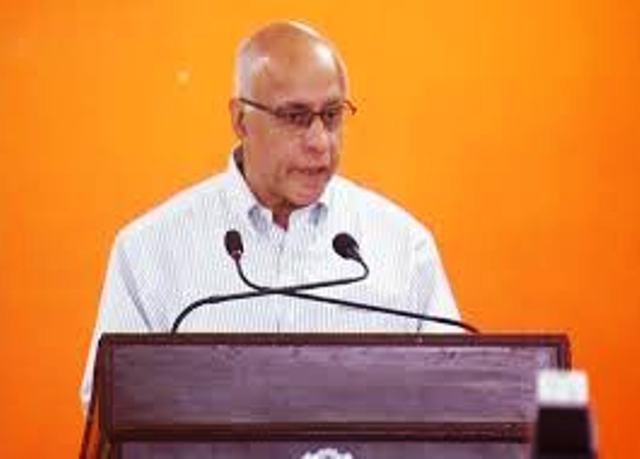 Bhubaneswar 28/04/2020- Subroto Bagchi, Chief Spokesperson of Govt. of Odisha on COVID-19, Hemant Sharma, Principal Secretary, Industries, MSME Department, Sanjay Kumar Singh, Commissioner-cum-Secretary, Information & Public Relations Department briefed the Press about steps taken by Government of Odisha for prevention of COVID-19.
 Hon'ble Chief Minister Naveen Patnaik has offered rich tributes to Utkal Gourav Madhusudan Das, one of the leading leaders of the movement for special statehood of Odisha and one of the architects of Modern Odisha on his Birth Anniversary. His valuable contributions for the development of Odisha, safeguarding the Odia esteem, bringing excellence in industries, education and literature will remain inspirational and be remembered for ever, he added.
 Hon'ble Chief Minister Naveen Patnaik, today through a Video Conference, directed the Senior Officers in charge of District Observers for containing COVID-19 to ensure food security for the workers returning from other States. Hon'ble Chief Minister has directed the observers to see that not a single worker and his family is deprived of getting ration, irrespective of having a Ration Card or not under National Food Security Act/State Food Security Scheme.
 Hon'ble Chief Minister Naveen Patnaik has directed to make 'MGNREGA' Scheme more target-oriented and enhancing it to 10 lakh Mandays per day from present 5 lakh Mandays per day by next week. Hon'ble Chief Minister has suggested to resume labour intensive works of Forest Department and to give special attention on the livelihood of Kendu leaf pluckers and seasonal workers.
 Hon'ble Chief Minister Naveen Patnaik has said that Doctors, Health Workers, Police personnel, ASHAs, Angan Wadi Workers and other employees deployed in the COVID-19 containment operations are COVID Warriors. Hon'ble Chief Minister has also emphasised on massive awareness among the concerned employees regarding the announcement of Ex gratia of Rs. 50 lakh to be given, in case of any unfortunate casualty due to COVID-19.
 Hon'ble Chief Minister Naveen Patnaik advised to ramp up COVID-19 testing, in view of return of workers from other States in coming days. He has suggested to increase the number of tests to 15000 per day by including private testing laboratories approved by ICMR.
 Hon'ble Chief Minister Naveen Patnaik has said that Senior IAS Officers have been assigned the responsibility of District Observers in order to ensure organised return of migrant Odias willing to return to Odisha. He has said that smooth return of the registered persons with quarantine facility will be undertaken and they will be provided accommodation, fooding and medical treatment free of cost.
 Government has approved the rates of expenditures on different heads for Temporary Medical Centers/Camps (TMC) for the people who are stranded outside and intend to come back to Odisha. Food expenditure @Rs 120/- per adult and @Rs. 100/- per child below 14 years per day, Rs.300/- per person for personal hygiene kit and Rs.2000/- per day for cleaning, sanitation and security etc. of the Centre will be provided. Department of Revenue & Disaster Management has issued the detail guideline in this regard. Above provision will be also applicable to the TMCs under all ULBs.
 As per the direction of Hon'ble Chief Minister. 16.07 lakh registered construction workers are being provided special financial assistance @Rs. 1500/- for COVID. A sum of Rs. 241 Crore has been given so far, as cash, by the District/ Block level team at the village/household of the beneficiaries.
 41 lakh beneficiaries, including 7 lakh pregnant and nursing mother and pres-school children under the Department of Women & Child Development has been getting their monthly nutrition, that includes Chhatua, Laddoos and eggs delivered at the households by Angan Wadi Workers.
 7125 nos of Temporary Medical Centres have been completed in 6798 Gram Panchayats of the State. In all these Centres, total number of 1,72,931 beds have been readied to provide COVID-19 health services in rural areas.
 Today, 3,61,480 destitute and helpless persons have been provided with food in 5543 Gram Panchayats. Similarly, in 114 ULBs 41,016 persons have been provided with food.
 From 27th April morning to 28th April morning, 49 no of cases have been registered by the Police in the state for violation of different regulations and guidelines related to COVID-19 of which 44 no. of cases for violation of lock down, 1 case for rumour mongering and 4 cases for other issues. 49 persons have been arrested by police for different violations.
Health Update
 Up to midnight of 27th April, 26687 samples have been tested.
 Number of Positive Cases stands 118.
 38 persons have already recovered/ discharged.
 No. of Death case 1.
 No of active cases are 79.
 181 persons are in hospital isolation.