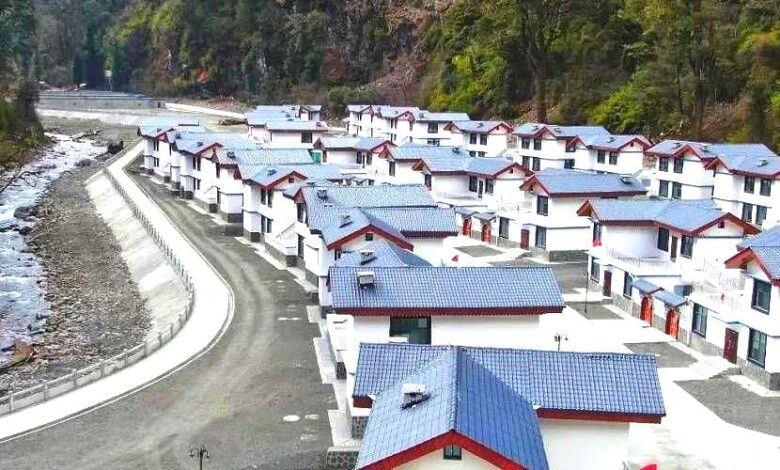 New Delhi,  –  China has begun construction of a village near the Line of actuall Control nearly three years ago. China, on the other hand, has so far built more than 400 infrastructure. Which is called the Border   Defense Village. Of these, about 600 border defense villages are in the eastern sector. In view of China's border defense villages, India is now accelerating the process of infrastructure development in LAC villages. Arunachal Pradesh is planning to build three model villages near the LAC.
The model is being built by the Arunachal Pradesh government and the Indian Army. Three villages have been identified near the LAC. Which will be turned into a model village. It will be a pilot project and will be expanded later. China passed a new land border law last week. Which will take effect on January 1 next year. Under the law, China continues to try to relocate its citizens to the border areas.
Border defense village built by China
China has now enacted a new land border law, but has already built defense villages in the LAC. The village is under the supervision of the Chinese Army PLA. The village is like a big complex with all the amenities. A senior Indian Army official said the LAC near the modern village of China is in the visual range. It was built two or three years ago but is empty. Sometimes someone is seen here. The main reason for this is not yet known. "We are worried that this Chinese defense village will not hesitate to use it in any other way," said Lt. Gen. Manoj Pandey, a former Indian Army commander. "It simply came to our notice then.
The village is crowded within 1 km
Arunachal Pradesh has seen some controversy over the Line of Actual Control. Which both India and China claim to be their own. Soldiers from both countries are stationed at a distance of 100-200 meters in the LAC, and at a distance of 3 km. It is true that China has built defense villages, but there is no population. China's most populous village in the LAC is about 3 km away. In India, the LAC's densely populated village is about 1 km away.
Army sources said China's border defense villages were more prepared in the eastern part of the country. In the West, such a defense has been built near the LAC. Sometimes cleaning is found here. A volleyball court is also being built here and a hotel is being built nearby. The issue's end has the recaptured Doomsday in the control of the PLA. One such model already exists.
The village is located in the firing range
In Kibun, Arunachal Pradesh, the Line of Equal Control has a Chinese military tattoo camp. It is integrated which includes general facilities as well as military infrastructure. It is home to an army company, as well as a firing range. According to a senior official, China could also use such defense villages near the LAC for its own troops.
It can be easily targeted even in times of war, and it is within visual range. So it can be used in the military, otherwise we are keeping an eye on it. China is communicating well with the village. It is connected to a 4-lane road. An observation tower has been set up in the vicinity.