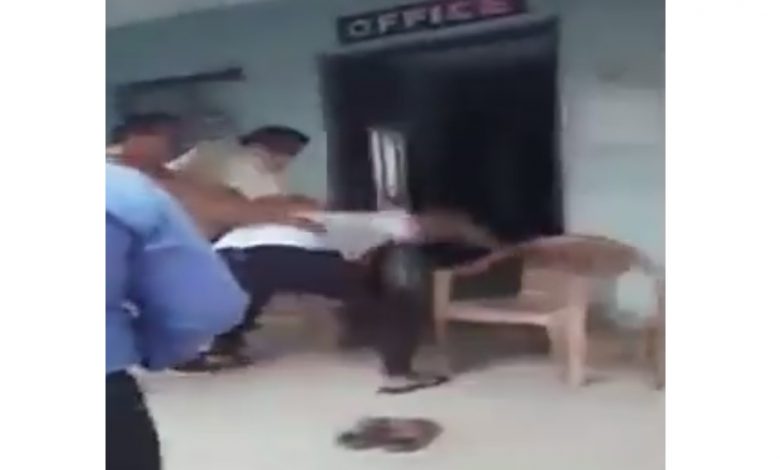 ---
Agina Odisha police is in Lime light for Over reaction on youth n . Bhadrak police have found brutally attacking a youth in side police station premises . A video of the incident has gone viral on social media. Thana Babu(police officer) has fined  some people for not wearing a mask. At the time of the fine, a woman was arguing that she and her family members were wearing masks. So she will not pay the fine. She said she was fully aware of the need to wear masks.
Police person in the video asking for 500 hundred while fine is now 2000. At this point there, a young man started shooting video on his mobile, asking about the rules of wearing mask. It had been very inhumane  Thana Babu(police persons)  trying to attack the youth. At this point the young man tried to flee from there and at this point some of the other police persons present there grabbed him  And began to beat him. Whose videos are now going very viral on social media
This virai video was shot on Saturday. Under the new rules, if the mask is not worn, a fine of Rs 2,000 will be imposed. But in the video, a police officer is seen asking for Rs 500. The fines have been increased for the purpose of alerting the public. It is unknown at this time  that the police person was now aware of the new rule or asking the money for something else.
According to sources, Shuvaranjan Mekap, a young man from Betali village in Ardalua village under Jajpur district's Mangalpur police station, was on his way to visit Baba Akhandalmani's temple in Aradi Pitha on Saturday .
Those police in this case further go beyond and arrested the youth in charge of attempt to murder .The big thing is that the policeman himself put a mask under his nose and mouth