News
Soumya from Keonjhar shines at Tata Steel Young Astronomer Talent Search (YATS)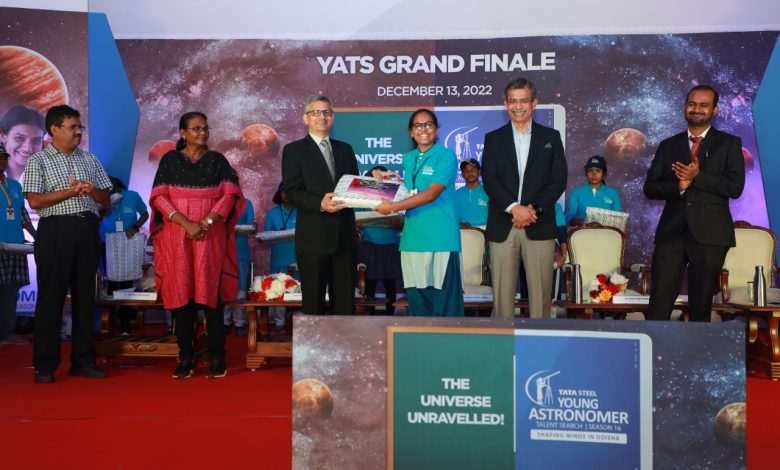 Joda, January 07, 2022: Soumya from Rabindra Vidya Niketan, Keonjhar emerged as a proud winner from Keonjhar district in the 16th edition of Tata Steel Young Astronomer Talent Search (YATS) 2022 programme. She was selected in the top 60 winners out of 6025 students who participated from Keonjhar district in the activation round. Subsequently, in the final round of selection held at Pathani Samanta Planetarium, Bhubaneswar, Soumya clinched a spot in the top 20 students of Odisha.
Shri Bhaskar Jyoti Sharma (IAS), Commissioner-cum- Secretary to Govt, Science & Technology Department felicitated Soumya along with the other winners on the occasion.
Another student of the district, Bibhu Kishore Palei from Tata DAV Public School, Keonjhar was also felicitated by the dignitaries in the final day event for making into the top 60 list.
Soumya, daughter of Shashi Bathre and Mukesh Bathre, is delighted with this recognition. She said, "It's really a great experience for me to compete with the Top-60 students from 30 districts of Odisha. The interaction with the judges was really very interesting and encouraging. The interactive session with Karuna Kar Nanda, Director, Institute of Physics gave us the confidence and encouragement to pursue  carrier in the field of astronomy and space science. I want to thank Tata Steel and Pathani Samanta Planetarium for providing me this rare opportunity."
Chief Minister of Odisha, Naveen Patnaik, addressed the students with a video message and congratulated the winners of the contest.
Among others present on the occasion were Smt Sanjulata Behera, Additional Secretary, Science & Technology Department, Govt of Odisha and Director, Pathani Samanta Planetarium; Dr Karuna Kar Nanda, Director, Institute of Physics, Bhubaneswar; Sarvesh Kumar, Chief, Corporate Communications, Tata Steel and Dr Anshuman, a 2009 YATS alumnus.
This season, around 77, 500 students from 300 schools across 30 districts of Odisha participated in the annual flagship event of Tata Steel in the state. The theme for this edition was "Time to unravel the universe". The winners will get the opportunity to visit one of the premier facilities of the Indian Space Research Organization (ISRO) and receive a first-hand experience of space science in May 2023.
YATS, organised by Tata Steel since 2007, in association with Pathani Samanta Planetarium, is aimed at creating awareness in the field of astronomy and space science among the students and popularise the great contribution of the legendary Odia astronomer Pathani Samanata to the field. YATS 2022-23 included an open quiz-conducted physically in schools (for students of classes 6th to 10th) and a written competition: conducted in schools as well as online (for students of classes 9th and 10th).