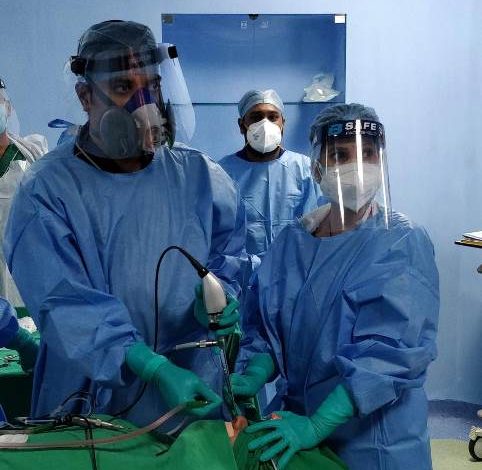 Bhubaneswar, May 31: A 44-year-old man, suffering from black fungus, was treated at SUM Ultimate Medicare, with doctors opting for the surgical route with success.
The man from Ganjam district was infected with Covid-19 and had received treatment at the SUM Covid Hospital for ten days before being discharged. A diabetic, he was treated with steroids to deal with his respiratory problems.
Five days after being discharged, he developed numbness, swelling on the left side of his face, and edema in the eye with an enlarged eyeball.
The patient was referred to SUM Ultimate Medicare for evaluation. A team led by Dr. Radhamadhab Sahu, Head of ENT and Skull Base Surgery in the hospital, immediately performed nasal endoscopy and sent the sample for fungal stain and culture.
Reports showed evidence of mucormycosis (black fungus), and Dr. Sahu immediately admitted the patient for further investigation.
"As the proper drug (liposomal Amphotericin B ) to treat the patient was not available in the market, conventional Amphotericin B was administered and a surgery was planned," said Dr. Sahu
"The disease involved the nasal cavity, maxilla, premaxillary area, infratemporal fossa, and the orbit for which endoscopic debridement with orbital decompression was done and black fungus affected areas removed leaving no scar in the face," added Dr. Sahu.
The patient retained vision in the affected eye and after undergoing a course of antifungal therapy and regular endoscopic evaluation; he was discharged.
Dr. Sahu said the mortality rate in black fungus is very high, (50%) in such recovered Covid cases, timely diagnosis and early intervention could save lives. The hospital had successfully treated five such patients so far while the condition of two others is being evaluated.
Nasal stuffiness, foul-smelling nasal discharge, blackish blood-stained discharge, dental pain, numbness, swelling over the maxillary area, black and necrotic lesions over the palate, face or nasal cavity, pain in eyes, lid edema, proptosis, limitation in eye movement, loss of vision, facial paresis and headache are the signs and symptoms of black fungus infection.
The multi-disciplinary team of Consultants treating the patient included Dr. Radhamadhab Sahu (ENT & Skull Base Surgery), Dr. Akhila Kumar Panda (Neurology), Dr. Swati Samant (Opthalmology), Dr. Abhay Kumar Sahoo (Endocrinology), Dr. Purabi Baral (Microbiology), Dr. Subasis Mohanty (Pathology), Dr. Golak Pasa (Radiology) and Dr. Dipankar Padhihari (Anesthesiology).
Dr. Sahu said SUM Ultimate Medicare, an upcoming quaternary care hospital in the east, is the first hospital to diagnose black fungus in Odisha.