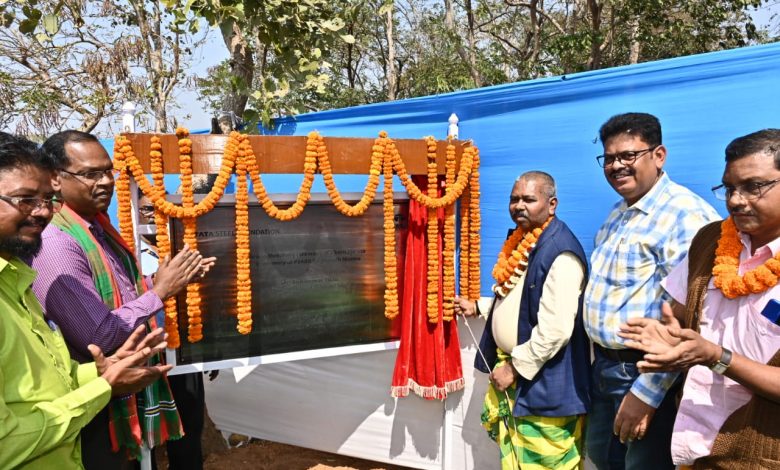 Bishweswar Tudu, Hon'ble Union Minister of State for Tribal Affairs and Jal Shakti, Government of India laid the foundation stone for the grand statue

Bhubaneswar: Tata Steel Foundation (TSF) is delighted to announce the ground breaking for the erection of a grand statue of Pandit Raghunath Murmu (also known as Guru Gomke) at his village of Dandbose, in Rairangpur – block, Mayurbhanj district. The foundation stone was laid by Chief Guest Bishweswar Tudu, Hon'ble Union Minister of State for Tribal Affairs and Jal Shakti, Government of India in the presence Saroj Dash, Sub-Collector, Rairangpur, Sagar Murmu, BDO, Rairangpur; Jiren Topno, Head CSR – Tribal Identity, TSF; and S N Nandi, Head, Infrastructure TSF. This project is a part of TSF's engagement towards the preservation and promotion of heritage sites that are of utmost significance to tribal communities.

Pandit Raghunath Murmu's legacy is known and revered all across region for developing the Ol Chiki script for the Santhali language, and his birthplace in Dandbose village is of great importance to the tribal communities. The fact that Santhali is now a recognized language under Schedule 8 of the Indian Constitution owes much to his effort, making him an eminent tribal leader. This project will be completed by the end of the Financial Year 2024.

Sourav Roy, Chief Executive Officer, Tata Steel Foundation said: We are happy to initiate a project that engages in preservation and promotion of tribal culture and heritage across our operating locations. The contributions of Pt Raghunath Murmu towards propagation of Santhali is immense, and it is our honour to commemorate his memory through this project.


Other important persons present for the event were; Baidyanath Majhi, Assistant Conservator of Forest; and the two Grandsons of Pt. Murmu, – Bhimwar Murmu and Chiniyan Murmu. Ghasiram Murmu, Mukhiya of Dhandbose Village; Balhimani Tudu, Sarpanch of Dandbose; and local samiti members of Pt. Raghunath Murmu Mahal Madwa were also present at the event.

The statue will be erected along with a main gate at the village to honour the legacy of Pt Raghunath Murmu and promote his contributions to the Santhali language and culture. Tata Steel Foundation is committed to the development of tribal communities, and this project is an example of its dedication to preserving and promoting tribal heritage.