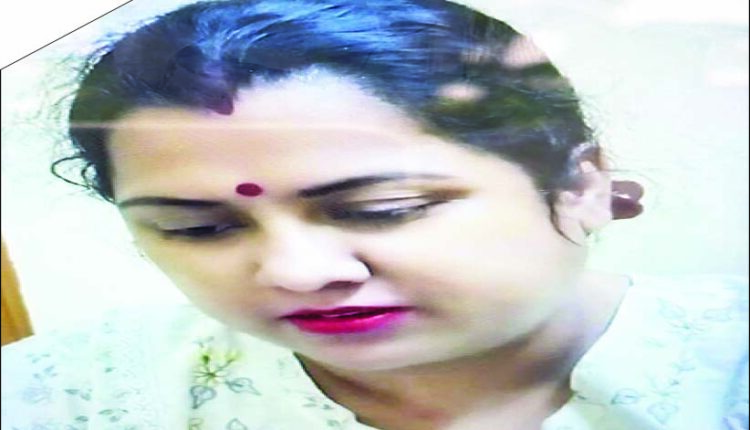 Bhubaneswar: Sahidnagar police have arrested a Bengali woman from Puri for posing as a professor and an agent of an established insurance company. Piyu Biswas, 36, of Howrah, was abducted by West Bengal police. Piyu was recently arrested on charges of robbing a businessman from Puri from Sahidnagar police station Bankual in his house. Police found , two gold chains, 10 rings and a bracelet. According to sources, Piyu's friendship with Jayakrishna was established through Facebook. Piyu introduced herself as a professor at a private educational institution. She also said she was an insurance agent. After a few days of talking, Piyu spoke sweetly and instilled confidence in Jayakrishna. After the friendship was strengthened, She made a lucrative offer to Jayakrishna to have an insurance policy.
Jayakrishna agreed. Piyu arrived at Jayakrishna's flat in Bankual on the night of the 8th to talk about insurance. Both were residents of Puri but in Bhubaneswar to discuss insurance policy or some otherthing. Piyu offered to stay in the flat for the night, saying it would be difficult to return to Puri due to delays in the insurance talks and late nights. Jayakrishna lived alone in the flat and did not object. They even ate together,
Taking advantage of his this, she added some sleeping pills to Jayakrishna's food. After Jayakrishna slept, Piyu fled his house with Rs 20,000 in cash, three Gold chains, two bracelets and two expensive mobile phones. The next morning, Jayakrishna lodged a complaint with the Sahidnagar police station and the police continued to investigate. Police raided the Puri Baliapanda Dhobakhal slum late Tuesday night after locating Piyu from a mobile phone tracker.
Police are planning to remand Piyu in custody. There are already fraud cases in her name in Kolkata. When she arrived in Odisha, she admitted that she had cheated on so many people. Whether she was cheating on himself or not, someone else has something to do with her. It is suspected that she had an affair with a gang.
Piyu appears to be a cunning woman. She used Facebook, WhatsApp, etc. as her main weapon on social media to deceive people. By spreading sweet language, She spread magic and could easily deceive others. Her beautiful face in the photo could instantly attract customers. No one could easily identify her as a fraud. Taking advantage of this, She was collecting people's numbers and later texting on the WhatsApp to increase friendships. Later, the insurance scheme showed a lucrative offer. She was inviting customers to meet her at 4 hotels to get him insured. On this occasion She looted the customer. Many not complained off fear of public embarrassment.