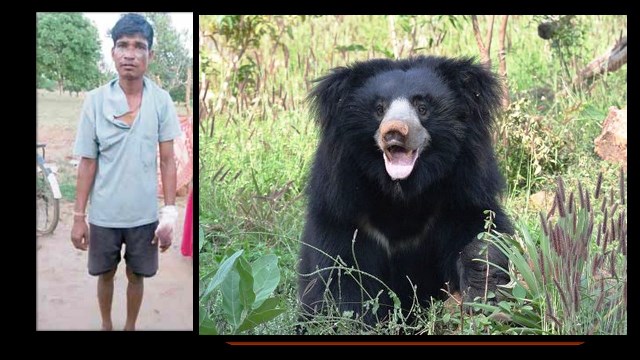 Bhubaneswar : A young man fought a bear at the risk of his life to save his wife. The bear finally gave up and gone into jungle. The incident took place in the forest near Odisha's Nabarangapur district raighar block mundibeda panchayat Balijhari village. The couple, who were injured in the bear attack. They have been given first aid in Umerkot community hospital . However, due to lack of funds, the young man was unable to complete his treatment.
According to sources, Sadananda Majhi of Balijhari village and his wife Kansamani Majhi went to a nearby forest yesterday morning to pick upkendu leaves. While the two were busy picking leaves, a mother bear arrived with two cubs. The mother bear started attacking kanasmani. At this time her husband kansmani  shouted for help. Sadananda was a short distance away. He ran to fight the bear himself, thinking it would be too late to call others for help. After about half an hour of fighting, Sadananda managed to rescue his wife from the clutches of the bear. Mother and the two cubs   left the place .
It  left deep wounds in many parts of Kansamani's body. Sadananda's left finger was amputated and his head and legs were injured. The villagers rented a vehicle and took it to Umerkot Hospital. Sadananda was asked to go to the Nabarangpur District General Hospital as his finger was amputated after first aid. But he seems to have moved home because he had no money for his treatment .