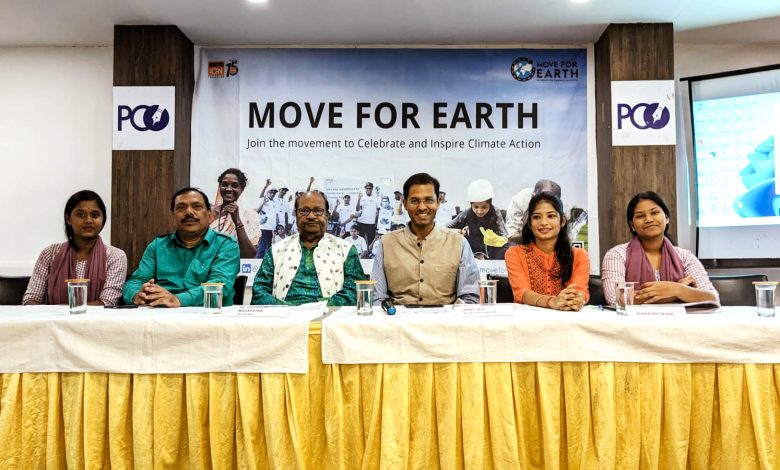 Sri Pradip Kumar Amat, Honourable Minister, Forest and Environment and Smt. Sulochana Das, Honourable Mayor, BMC to flag-off the rally in Bhubaneswar

Kolkata: SwitchON Foundation, an East India based award-winning not-for-profit entity, working across four major verticals – Clean Energy, Water, Climate Smart Agriculture, Skill Development and Sustainable Cities, today launched the second leg of the 'Move for Earth' movement to celebrate and inspire Climate Action with a purpose to build a smarter and brighter future for ourselves, our children, our farmers and life on earth. Vinay Jaju, Co-founder of SwitchON Foundation will be cycling over 3,000 km across different states in East India including around 500 kms in Odisha and connecting with over 10,000 farmers, women and youth, to address issues related to the issues to be addressed are clean air and sustainable mobility, sustainable agriculture, renewable energy.
SwitchON Foundation, celebrating its 15 year anniversary announced the schedule of this six- day Cycle Yatra across Odisha as part of the 'Move for Earth' movement, which will engage Farmers, Youth, Government, Financiers, Technologists and Civil Society Organizations through its journey, and offer solutions to community-specific issues related to water, soil, energy and clean air, that are directly impacting the livelihood and health of citizens. This movement aims to unite and amplify the collective voice of Climate Champions, equip communities with key tools, resources, new age skills and create a networked ecosystem for them to be the ambassadors of change.
SwitchON Foundation, along with various partners, plans to host a series of activities in cities, towns and villages across different states of India apart from Odisha to build resilience with future friendly skills, technologies and practices to mitigate the climate crisis our planet Earth faces.
Mr. Vinay Jaju, Co-founder SwitchON Foundation said, "In 2008, we, the founding team of SwitchON Foundation, set out on a bicycle ride from Kolkata to New Delhi. The ride inspired and sparked the impetus to a 15-year-journey of serving and strengthening communities through clean energy and other sustainable ways of living. Today, in the face of a devastating climate crisis we have decided to take on a similar ride to celebrate and inspire climate action. The Cycle Yatra will engage Farmers, Youth, Government, Financiers, Technologists and Civil Society Organisations."
Commenting about the initiative, Dr. Gadadhar Mohapatra, Rtd. IFS (FE&CC) expressed, "It is really encouraging to witness such a great initiative by SwitchON Foundation to Move for betterment of the Earth, for amelioration of the climate change crisis. I congratulate SwitchON Foundation for taking up such a noble awareness drive. The deteriorating environment today needs rejuvenation and creating awareness for active participation of masses is one of the primary needs for a long term solution of the crisis. The initiatives being taken up by SwitchON Foundation in this regard are praise worthy and I wish all success in this endeavour."
Present at the occasion, Dr. Hadibandhu Panigrahi, Sr. Environment Scientist, Odisha Pollution Control Board said, "There is a dire need to shift the way we live our lives in a climate constrained environment. The Move for Earth initiative by SwitchON Foundation is an effort to promote that necessary shift. I congratulate SwitchON Foundation for taking the initiative and wish them by best wishes. "
"I congratulate SwitchON Foundation for creating opportunities for the different stakeholders and engaging them in a unique and transformational way. This movement will definitely make a difference and connect lives in a positive way." said Sri Arabinda Dhali, MLA, Jayadev.
This initiative will encourage urgent climate action and facilitate purposeful events and activities that will range from skill development training, stakeholder meetings, seed festivals and buyer-seller meets, to handicraft fairs, millet and tech expos, street art and puppet shows. In each state the ride will conclude with a Citizens Jury for Earth in which small groups of farmers and urban youth will interact with experts and get involved in the process of making recommendations on our collective future, leveraging the values of democratic decision making.
The Odisha leg of the Cycle Yatra will commence on February 27, 2023, from Puri and then pass through Konark, Nimapara, Bhubaneswar, Cuttack, Satmile, Angul, Boinda, Redhakhol, Sonepur, and culminate in Balangir on March 04, 2023. Sri Jayanta Kumar Sarangi, Honorable MLA, Puri shall be flagging off the Cycle Yatra from Puri on February 27, 2023.
SwitchON is urging the citizens to join the movement, by simply visiting www.MoveForEarth.in and signing up as a volunteer or partner, or by joining the ride and helping to switch on a climate conscious movement that holds the potential and promise to build a better future.