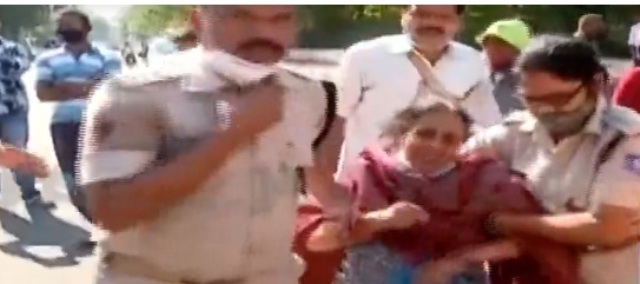 Two more self-immolation attempts have been reported in front of the Odisha Assembly. Deceased Amrut Das 's  brother and mother attempted suicide before the assembly today, demanding an inquiry into the July 2016 death of Amrut Das.
According to sources, the deceased's brother Subrata Das and his mother Sulochana Das attempted suicide by pouring kerosene on their bodies at around 12 noon on Saturday.  the cops present there had caught him. Their home is said to be in Kujang area of ​​Jagatsinghpur district.
The unfortunate scene of the mother and son attempting suicide together in front of the Assembly was seen this afternoon. Both were rescued by police from Indira Gandhi Park. The woman is said to have protested, alleging that her son's murder was not justified last year. Amrut Das's death was reported to the police by his family, but it was not accepted. The murder case was later settled after the family went to court. But family members complained that police were not investigating.
Notably, three farmers recently attempted suicide in front of the assembly. The bomber struck shortly after noon in front of a police station in the Aathgad area of ​​Cuttack district. Three farmers in Aathgad tried to commit suicide by pouring kerosene on them, while security personnel immediately arrested them. It is alleged that the ambassador provided the information to Hussein.