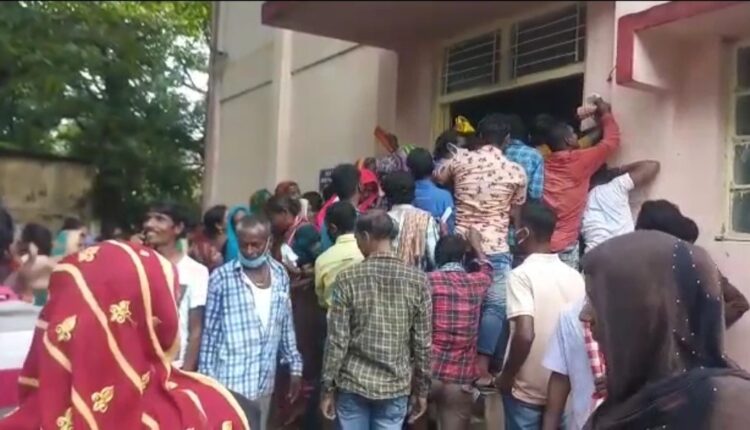 Kabisuryanagar: Kabisuryanagar in Ganjam District of Odisha one  community health center has witnessed an unpleasant situation during the vaccination  . The hospital was the only vaccination center, and thousands of women and men gathered for the first and second doses of Covid vaccine. As a result, it became a kind of battleground instead of a series of vaccinations. Three women were injured and another was seriously injured when  there was a stamped  to get the vaccine . Some people broke down doors and railings in an attempt to get vaccine. As a result, hospital authorities contacted police. Vaccination was stopped in the afternoon as the situation went out of control.
Thousands of  people gathered last Saturday to get vaccine for the second dose. Others who came to get vaccinated online were not left out by others. As a result, the vaccine was postponed until Tues day  .
Crowds gathered at the local hospital to pick up the first and second doses from 7 a.m. today. Most of them were women. Crowds of more than 2,000 people began vaccinating at 9 a.m. Despite medical authorities declaring that they did not have the required syringes, people did not return. There was only one countdown to the administration as competition among the people began to be vaccinated. Five storm surgeons, three vaccinators, an NMM, a supervisor, three security guards and five police personnel were deployed. The wounded people and kept the employees and kept one of the rum. Three women were injured and one was seriously injured in the blast. Serious women were given saline and medicine with stairs. The door and railing were broken during the woman's push
Health Officer Dr. Sushant Kumar Mukhi said. Vaccination was finally halted at 1:30 p.m on Monday., as the situation eventually went out of control. Vaccination was also halted due to the same situation in Budhamba and Aathgad. 400 were vaccinated in Kabisuryanagar, 300 in Budhamba and 300 in Aathgad. However, pregnant women and online applicants were denied the vaccine. The vaccine is expected to resume on Tuesday .