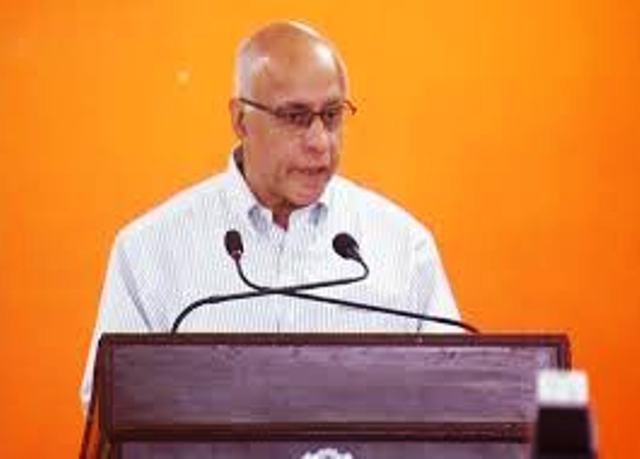 Bhubanewar April 27- Sri Subroto Bagchi, Chief Spokesperson of Govt. of Odisha on COVID-19 and Sri Sanjay Kumar Singh, Commissioner-cum-Secretary, Information & Public Relations Department briefed the Press about steps taken by Government of Odisha for prevention of COVID-19.
Participating in a Video Conference with Hon'ble Prime Minister
Sri Narendra Modi today, Hon'ble Chief Minister Sri Naveen Patnaik has suggested for preparing a National SOP for smooth movement of stranded persons including students, workers, pilgrims, patients and professionals etc. He further requested all the States to take care of the stranded workers. Hon'ble Chief Minister also emphasised on improvement of testing facilities.
Hon'ble Chief Minister Sri Naveen Patnaik has said that in past many natural disasters have struck the State of Odisha. But as a race we Odias have never broken down and we should never be defeated. A new dawn shall come by dint of our patience and sacrifice. Odisha shall smile again, he added.
Hon'ble Chief Minister Sri Naveen Patnaik has announced exgratia of
15 lakh to the family of Working Journalist in case of his death due to COVID-19. Hon'ble Chief Minister said that COVID-19 has created massive health problem in the whole world and the journalists are working sincerely in such a difficult situation along with generating extensive awareness on Corona Virus.
Hon'ble Chief Minister Sri Naveen Patnaik has said that together, we can flatten the curve of COVID-19 pandemic through increased social awareness, hygiene practice and adherence to Lock Down restrictions. Hon'ble Chief Minister has called upon the people to join Odisha Government team of volunteers and to become a COVID Warrior for the State.
An exclusive COVID-19 Hospital has been operationalised at Nuapada District to strengthen Odisha's fight against COVID-19. The Hospital has 200 beds. With this, the number of COVID-19 Hospitals in the State has increased to 34 and total number of beds has increased to 5676.
Panchayati Raj and Drinking Water Department has geared up in arranging Temporary Medical Camps/Centres to receive migrants for quarantine in near future. So far 7102 numbers of Temporary Medical Camps/Centres with 2.27 lakh beds have been made functional.
Odisha Government has launched a portal https://covid19.odisha.gov.in for registration of migrants returning back to Odisha. Gram Panchayat Nodal Officers of 6798 GPs in the State and all BDOs have been trained to facilitate the registration procedure. So far 4.86 lakh persons have registered on this Portal.
Odisha Rural Development and Marketing Society (ORMAS), under Panchayati Raj and Drinking Water Department is engaged in preparation of masks through Self Help Groups (SHGs) and its distribution. One Sale Counter has been opened near SIRD, Bhubaneswar. One Mobile Van and 20 Medicine Stores are also facilitating the sale. 208 SHGs/PGs in the State have prepared 19.52 lakh masks and made it available for use of the people.
Panchayati Raj and Drinking Water Department is trying to accelerate MGNREGS to provide wage employment during COVID-19 period and secure livelihood of the people in this testing time. As on today, 4 lakh of Mandays are being generated every day.
Today, 3,53,306 destitute and helpless persons have been provided with food in 5536 Gram Panchayats. Similarly, in 114 ULBs 42,186 persons have been provided with food.
From 26th April morning to 27th April morning, 55 no of cases have been registered by the Police in the state for violation of different regulations and guidelines related to COVID-19 of which 51 no. of cases for violation of lock down and 4 cases for other issues. 55 persons have been arrested by police for different violations.
 Health Update
Up to midnight of 26th April, 25103 samples have been tested.
Number of Positive Cases stands 111.
37 persons have already recovered/ discharged.
of Death case 1.
No of active cases are 73.
164 persons are in hospital isolation.